Floating Points USB Album
Sonorous microtonal and liquid rhythmic chamber jazz!
$16 FREE SHIPPING. Ships in 2-3 days.
*Delivered on USB flash drive w/high resolution tracks (96k/24 bit wave files) and mp3 files.*
Ole Mathisen Floating Points Ensemble explores music inspired by elusive reference points and unpredictability in natural phenomena: turbulence, wave patterns, wind shear, currents.
Ole Mathisen - tenor saxophone, Amir ElSaffar - trumpet, Bobby Avey - piano, Gregg August - bass
Hot House Magazine An endlessly inventive, sometimes dizzyingly diverse and quirky composer and reeds master, Norwegian saxophonist Ole Mathisen has enlivened projects ranging from Afro-Cuban outings to highly avant-garde ambient efforts. Wielding a deceptively clean tone, Ole can deliver an extraordinary volley of music, ranging from minimalist statements to full-on rock guitar-styled shredding of notes, a thrilling approach matched by his remarkable, genre-defying compositions. Ole features his Floating Points ensemble, offering up works inspired by the unpredictability of such natural phenomena as wind turbulence, wave patterns and water currents. Backed by trumpeter Amir ElSaffar, pianist Bobby Avey and bassist Gregg August, Ole presents music that is bound to excite, surprise, occasionally befuddle, and ultimately exhilarate.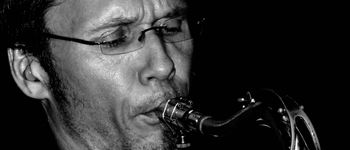 Ole plays Bari synthetic reeds