SeaOfTranquility
Pete Pardo
FFEAR, Mirage "..this band has brought the goods in a big way."
Bop-N-Jazz
Brent Black
Periodic Table "Ole Mathisen makes an impressive statement as perhaps the finest tenor player flying just beneath the radar of  fans and critics alike….Ole Mathisen is carving out his own incredibly unique vision by taking the harmonic road less traveled for an approach that is vibrant, fresh and most importantly expansive both in presentation and composition. Pushing sonic buttons and boundaries positions Mathisen as an artist to watch closely in the coming years with the best advice being to check out all of his subsequent work so that his harmonic development can be charted on your own."
Time Out New York
Mirage....an engaging 2012 LP, which deftly balances its brainy and earthy impulses.
Bop-N-Jazz
Brent Black
FFEAR, Mirage "An adventure in sound manipulation. Expect the unexpected. Stunning….Mirage is the title piece composed by Ole Mathisen and explores complex  meter without ever feeling the need to pitch a tent to make a pretentious point….this is music that is precisely executed and meticulously composed while never losing the spontaneity of the improvisational genius that all four members bring as a harmonious synergy of space and time…Mirage while a masterclass in both performance and composition asks very little in return other than for one to listen.
Dagsavisen
Roald Helgheim
Elastic "THE great jazz album of the spring."
JazzChicago
Brad Walseth
Periodic Table, Ole Mathisen "So put on your goggles and white lab coats, break out the beakers and Bunsen burners, because it is party time in the lab."
Side2
Tor Hammerø
"Chinese Horoscope is in many ways the definitive break-through for Ole Mathisen."
eMusic
Charles Farrel
"Simply put: Chinese Horoscope is a masterpiece."
eMusic
Charles Farrel
Chinese Horoscope, Ole Mathisen "Mathisen has already moved away from any forebears into his own territory."
Dagbladet
Terje Mosnes
Periodic Table, Ole Mathisen "Explosive chemistry lesson from New York."
All About Jazz
Scott Yanow
NYNDK "However the biggest surprise in the group and on the CD is the Norwegian saxophonist Ole Mathisen. Whether on tenor or soprano, Mathisen tears into the music and consistently steals solo honors."
All About Jazz
Jerry D'Souza
NYNDK "His saxophone wanders into seductive odd time signatures,... riding an angular trail, adding fast jabs and a tumble of notes that blow across in an intense whirl."
Jazzreview
Glenn Astarita
NYNDK "....one of the best modern-mainstream outings of 2004"
The New York Times
Nate Chinen
NYNDK "....pointedly cosmopolitan post-bop collective"
Descarga
Peter Watrous
Afromantra "The saxophonist Ole Mathisen tears up the pieces; this is modern latin jazz at it's intelligent, driving best."
JazzChicago
Brad Walseth
SYOTOS "Mathisen's "Op-Ed" is a revolution in motion and his solo is exciting and frightening in its revelations."
All About Jazz
Jerry D'Souza
SYOTOS "...Ole Mathisen takes his tenor saxophone into a riptide with jabbing phrases."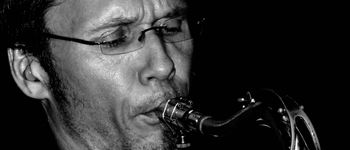 Ole plays Bari synthetic reeds